Discover more from Burlington Buzz
Care local. Stay up to date on local government and current events in Burlington, MA.
Over 1,000 subscribers
Daily Buzz | Mock Trial Team Impresses with Strong Performance
Also, 5th grade parents meeting at MSMS tonight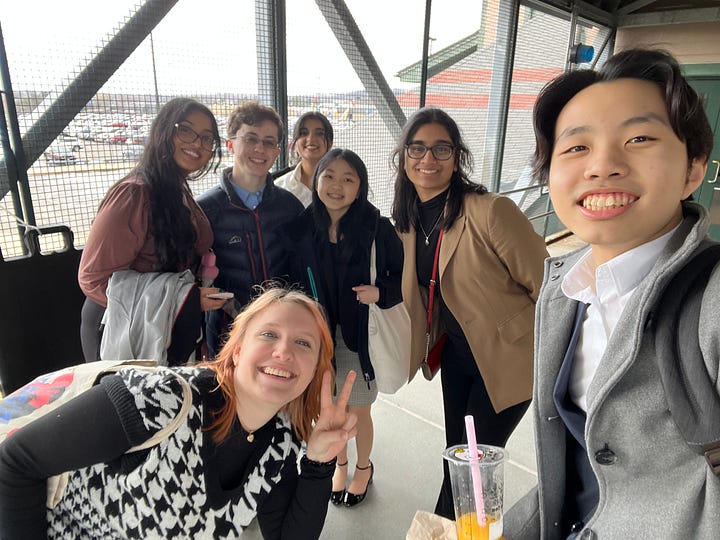 Good Morning, Burlington!
I had the opportunity recently to speak with Shira Foint, 10th-12th grade teacher and Mock Trial teacher, about the Mock Trial program at BHS. I'm very excited to share with you today what I learned!
Mock Trial is a program put on by the Massachusetts Bar Association where students prepare and argue a case in a simulated courtroom. The group meets all year and practices with old cases in the off-season, but each year's competition case (which alternates between civil and criminal) is released in November. An attorney coach prepares students to make a case for both the prosecution and the defense and play the role of both as attorneys and witnesses. Sides are assigned at the matches, which begin in January.
The Mock Trial program at BHS began in the 2018-19 when a group of sophomores approached Ms. Foint; the team has since grown to about 18 students. From the very beginning, the team has been competitive, scoring 2-1 in their first year and losing the regional tiebreaker by just one point. Their performance has only become stronger; in the last two years, the team has gone 3-0 but suffered disappointing one-point losses in the tiebreaker round yet again.
This year, as the original crew of sophomores had graduated, the captains took on preparing new students and maintained a competitive team. With the hard work and growth of both new and existing team members, the team once again had a good showing in the regular season and just missed qualifying for finals.
Congratulations to the team on all their hard work this season, and best wishes for the upcoming school year!
---
In partnership with Chevron Plumbing
Prepare your plumbing for the spring with these simple steps from Chevron Plumbing!
Check for leaks from outdoor faucets and irrigation backflows caused by winter damage.

If you have a sump pump, test that it is working properly before you need it.

Finally, monitor your water heater for problem signs or check your warranty to consider replacement.
Do you have other plumbing or heating projects planned? Chevron Plumbing is local, licensed and insured. We are veteran-owned and our team is reliable, responsive, and professional. Contact us today for a free estimate!
Today in Burlington
Meetings and Events
9:00 AM - Ways and Means Subcommittee will discuss the proposed FY24 budget for the Town Clerk and the Board of Registrars (Town Hall)

10:30 AM - Toddler Storytime at the library

12:00 PM - Planning Board Subcommittee - the District will discuss the special permit application for the District. The developer who owns this land is applying to change the plan that was originally approved for the space in favor of something that works better in today's market and provides more green space for the community to enjoy. (Town Hall Annex)

4:00 PM - Ways and Means Committee - Sub Committee Local Education will review the proposed FY24 budget and capital articles for Shawsheen Tech. (Shawsheen Tech)

6:30 PM - Meeting at MSMS for parents of current fifth graders to discuss middle school curriculum and the developmental needs of middle school students. (MSMS Abati Auditorium)

7:00 PM - Board of Appeals - looks like all hearings except 1 were withdrawn or continued. They'll be reviewing one application for a variance to build a 2-car garage on a residential property with a decreased setback. (Public hearings begin at 7:30 in the Town Hall Main Hearing Room)
Sports and Activities
Boys won their first tennis match of the season, going 4-1 against reading. Girls lost their match 1-4. In baseball, Winchester beat our JV team 9-1 and our varsity team 18-10.
We've got volleyball and lacrosse on the calendar today:
Volleyball in Wakefield:
JV plays at 4:00

Varsity plays at 5:15
Lacrosse:
Girls are in Winchester at 4:15 (JV) and 5:45 (Varsity)

Boys host Winchester at MSMS at 4:30
That's all I've got for now. Have a lovely day!
Nicci